There are three ways that you can download your documents.
Important Note
You can still download your records even if the request was closed. If the request was closed it means the agency considers your request fulfilled on their end. The documents can still be accessed.
Download Records From an Email Notification
If the agency uses document pickup links, then you can click on the file names in the notification email that was sent.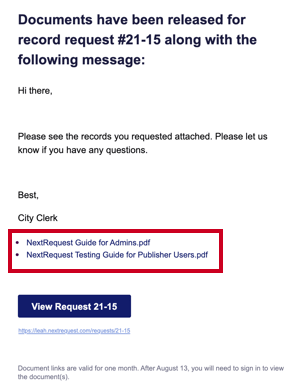 Once you click on the names of the files they will download to your device. You may need to approve the download depending on your settings.
Note: These links expire after 30 days, the expiration date is noted at the bottom of the email. If it's past the expiration date you can log in to the portal and download your files at any time.
Download Records From the Portal
Log in to the portal and navigate to the All Requests tab


Click on the

Requester

filter under My Requests and click the

Apply Filters button

Open the request

Select the Documents tab

Click the download icon next to the document(s) you wish to save to your computer



Note: If you're unable to access the documents the first thing to check is if you are logged in. Some requests are public but the documents are private, meaning that you can get to the request itself without being able to see the documents.

Or, check the boxes next to multiple documents and click the Download documents icon at the top of the list


This will zip the files and begin a download to your computer/device.